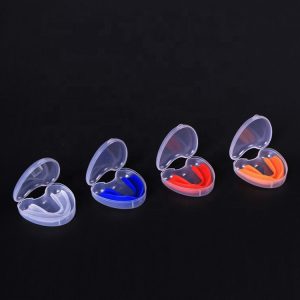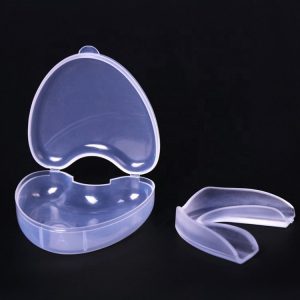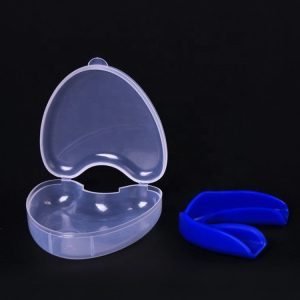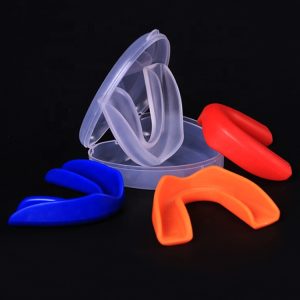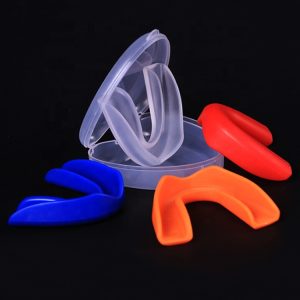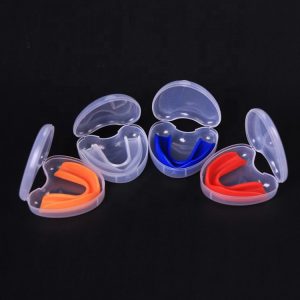 | | |
| --- | --- |
| Product name | Dual layer mouth guard |
| Material | Medical grade EVA |
| Size: | 14*9*3cm |
| Weight | 195g |
| Customise service | Produce according to your drawing or sample,we can also use our standard mold |
| Feature | Soft,elastic,non-toxic,easy to use |
| Certificate | CE,MSDS,ISO,BSCI |
| Application | Mouth guard for sporting,boxing,football,basketball |
| Product scope | Mouth tray for whitening,mouth guard for sporting |
| Guarantee | High quality ,factory price |
| MOQ: | 10 sets |
Braces originated in boxing. The earliest materials for braces include cotton, sponge, wood… There is even one with springs; football is fierce, but the NFL does not require athletes to wear braces. Braces are roughly divided into three categories, but the best One does not prevent concussions either. Braces refer to sports mouthguards, which belong to a type of sports protective gear, just like the helmets of football players and the shin pads of football players. Boxers must wear braces in boxing matches, and many athletes in basketball, rugby, soccer, ice hockey, hockey and various combat sports also have the habit of wearing braces. The popularity of braces began in 1927. In a boxing match that year, boxer Mike McTigue had the advantage all the time, but his lip was bleeding from a tooth cut and eventually had to give up the fight and voluntarily concede. Since then, more and more boxers have started using braces. However, there were still many kinds of braces at the time. A dentist named Clearance Mayer even invented a brace that used iron springs to support soft materials.
Children and adolescents are especially prone to falls and dental trauma when participating in sports such as basketball and football. The upper incisors are the most vulnerable teeth in the oral cavity. Once damaged, the teeth may be broken, dislocated, or lost. Therefore, it is best to wear a sports mouthguard before high-intensity, confrontational exercise.